How it works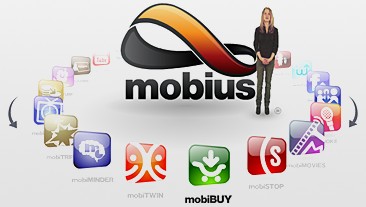 The Legacy engine is part of the Mobius group of products. Mobius is an image recognition system designed to work with camera-enabled mobile phones. When a user sends an image via a mobile phone, Mobius automatically receives, identifies, and replies with custom messages, e-commerce channels, special offers or unique mobile content, including video and sound files.
Mobius works on all mobile phone carriers, requires no downloads, and is available anywhere in the world where a mobile internet connection is available. Mobius responds in the primary language of that a call originates from.
Mobius mobile image recognition technology is also used in the mobiLUX, mobiSHADES, mobiTRUST, mobiPET, mobiWINE and mobiBIZ applications.
Mobius works best for users with an unlimited data plan. The Mobius service in itself is free, but users will pay any data charges associated with their mobile phone service contract. Standard carrier messaging and data rates apply.
Visit www.mobiworld.me for more information.
Legacy service along with Mobius International is partnered with weathertrends360.com to provide timely weather alerts on the anniversary of your loved ones birthdays and holidays which is geo position based. That way you can know if you should take an umbrella or a coat when you make your next visit to the cemetery.
Introducing mobiREALTOR
You already have everything you need to get started, and so does everyone else. It's your mobile phone.
When a property is just not selling because of limited exposure or because of a few showings, mobiREALTOR brings the power of mobile marketing, GPS and the sophisticated Mobius mobile image recognition technology to help you showcase your property in a new and unique way sure to help you sell it fast. The mobiREALTOR service is costs only $99 per listing, it's easy to setup, and works with any camera-enabled mobile phone or tablet. You shoot your virtual tour on your cell phone, text or email it to us and we will do all the heavy lifting building your mobile mini site.
CompEx, Inc., is the parent company of Mobius. CompEx, Inc. provides comprehensive integrated web solutions to solve the complex connectivity problems facing today's organizations. Based in Columbus, Ohio, CompEx, Inc. is a privately-funded company formed in 1992 as a technology brand of global invention and vision to develop solutions for new business ventures. CompEx specializes in interactive mobile marketing, web and mobile application development, business intelligence, infrastructure/security, and digital data management. Our innovative thinking, knowledge and systematic work methodology enable us to provide our customers with timely and highly effective solutions.
For more information about CompEx, Inc. or Mobius, contact our US Headquarters (877) 829-0536 or visit www.mobiworld.me